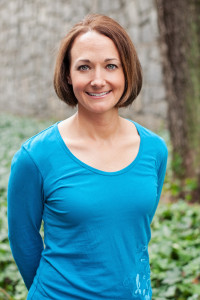 Co-owner, Trainer
Dorie Downs has been in the fitness industry for over 20 years, and she holds a Bachelor of Fine Arts Degree in Dance and Theatre Arts from East Carolina University. Dorie is a certified personal trainer, holding certifications from the American Council on Exercise (ACE) and the National Academy of Sports Medicine (NASM).  Dorie is also a certified group fitness instructor, a certified yoga instructor, and is certified in Functional Movement Screening and CPR.
Dorie's professional background includes extensive experience in both personal training and large group fitness programs.  Dorie was a personal trainer in New York City at Physical Structure personal training studio before moving to Greenville, NC and opening Flex Appeal personal training studio.  Dorie eventually settled in the Atlanta area, and served as the Assistant Fitness Director at The Sporting Club at Windy Hill, where she was responsible for scheduling and managing instructors for group fitness classes, as well as teaching classes herself.  Dorie's programs have included classes in spinning, step, and yoga, among others.
In 2005, Dorie partnered with Kristian Jones to open a private, personal and small group training facility – Excellence In Exercise.
With a rich background in studio management, personal training, and group fitness, Dorie has demonstrated the ability to provide programming in both small and large fitness facilities.
Dorie's Philosophy:  Work hard so you can play harder.

Testimonials: 
Dorie has trained me for almost four years and completely changed my life.  She has trained me throughout two pregnancies, and I was in better shape and healthier after each pregnancy than I was before.  I completely believe that her training was the reason I had no back pain, a high energy level and easy deliveries.  Her vast knowledge of the body and its abilities shows in the varied workouts that she develops for me each week.  She truly listens to my concerns and develops an action plan for my best health. I have never been an athlete but after training with Dorie, I feel like my body can accomplish anything.  My time spent with her is some of the most productive and informed hours of my week.  Dorie is an amazing professional with a warm and persevering attitude that makes my workouts so enjoyable, even when I know I will be sore the next day.  Working out with Dorie is the best possible investment I could make in myself.  –  (Christie – client 4 years)