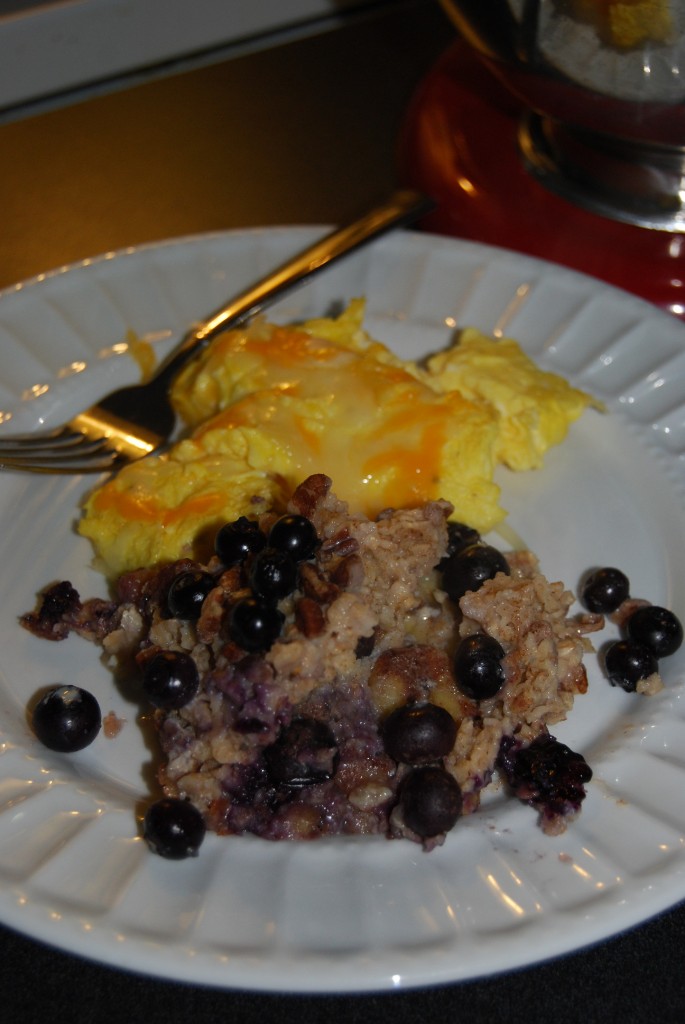 One of our family's resolutions for the new year was to try to find new, good, healthy recipes to add to our repertoire. 
My husband and I are both trainers, and we have a young son.  So our criteria for a new recipe is that it has to be healthy and nutritious, but the recipe absolutely can't sacrifice taste.  Recipes have to be filling and give all 3 of us the energy that we need to make it through a busy day.  In our house, we are also focusing on trying to incorporate more veggies, more fish & seafood, and less poultry, pork and beef.
I've had a month now for trial and error, and recently I've gotten lucky and hit a few home runs.
One of those home runs was Baked Oatmeal with Blueberries & Bananas.  I found this recipe on one of my favorite recipe sites – SkinnyTaste.com, and we tried it this past weekend.
I did all the prep work on Friday evening – arranging the bananas & blueberries in the baking dish and preparing both the dry ingredients and the wet ingredients.  I placed all of the containers in the fridge, and then Saturday morning, it only took a few minutes to throw it all together and pop it into the oven.
We served it with some scrambled eggs with cheese (one of our staple breakfast items), and the photo included here is one that I took, so this is what the dish really looked like.  It was pretty enough to serve for company, but easy enough to prepare anytime.  It was filling and very yummy with the fruit, nuts & oatmeal, and just a little sweetness.  It kept well and was great warmed up for an easy Monday morning breakfast.
Enjoy!  And if you try it, let us know what you think!
Baked Oatmeal with Blueberries and Bananas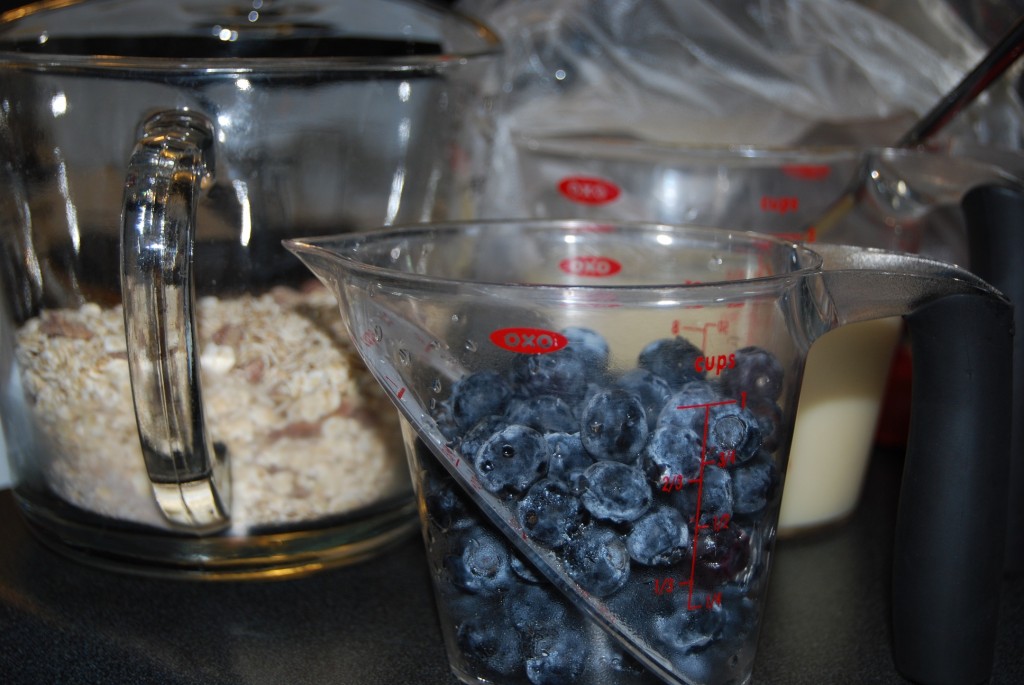 Modified from Ambrosia Baking
from Skinnytaste.com
Servings: 6 • Serving Size: 1/6th • Calories: 211.7• Fat: 5.4 g • Protein: 5.6 g • Carb: 38.1 g• Fiber: 3.8 g • Sugar: 22.8 g • Sodium: 76.9 mg (without salt)Ingredients:
2 medium ripe bananas, (the riper the better) sliced into 1/2″ pieces
1 1/2 cup blueberries
1/4 cup honey (or agave)
1 cup uncooked quick oats
1/4 cup chopped walnuts or pecans
1/2 tsp baking powder
3/4 tsp cinnamon
pinch of salt
1 cup fat free milk (or any milk you desire)
1 egg
1 tsp vanilla extract
Directions:
Preheat the  oven to 375° F.  Lightly spray a 8 x 8″ or 9 x 9″ ceramic baking dish  with cooking spray; set aside.
Arrange the banana slices in a single layer on the bottom of the ceramic dish. Sprinkle half of the blueberries over the bananas, 1/4 tsp of the  cinnamon, 1 tbsp of the honey and cover with foil. Bake 15 minutes, until  the bananas get soft.
Meanwhile, in a medium bowl, combine the  oats, half of nuts, baking powder, remaining cinnamon, and salt; stir  together.  In a separate bowl, whisk together the remaining honey, milk,  egg, and vanilla extract.
Remove the bananas from the oven, then pour the oat mixture over  the bananas and blueberries.
Pour the milk mixture over the oats, making sure to distribute the mixture as evenly as possible over the oats. Sprinkle the remaining blueberries and walnuts over the the  top.
Bake the oatmeal for about 30 minutes, or until the top is  golden brown and the oatmeal has set. Serve warm from the oven.