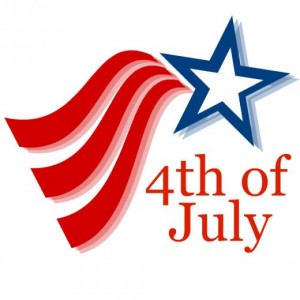 Cooking Light provides recipes for beautiful, delicious & healthy recipes for the 4th of July.  I'll be trying the Pulled Chicken Sandwiches, Red White & Blue Potato Salad, Grilled Corn on the Cobb, Blackberry Cobbler and Watermelon Margaritas.  Yum!
AllRecipes.com offers many menu options for the 4th of July.  From full menu plans to red,white & blue recipes, to favorites for the grill – you can find just about everything by CLICKING HERE.
Eating Well also offers a number of healthy 4th of July menu options HERE.  They even include a white sangria recipe that looks delicious as a refreshing summer cocktail!
Food Network provides quite a variety of Fresh, Healthy Summer menu items – check those out HERE.
Looking to celebrate the 4th of July with a party that'll make you say, "Hot Dog!"?  Well, host a real weenie roast, with recipes from Epicurious.  (I'm going to go out on a limb here and say that this option isn't very healthy…At.  All.  But, it's a fun idea, don'tcha think?!)
Most importantly – be safe and enjoy your time with family & friends.  We have many things to be thankful for – one of which is our freedom.
Happy 4th of July & God Bless the USA!