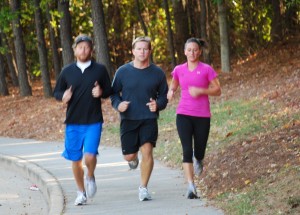 We are excited to announce that beginning in March, Big Peach Running Co. in Brookhaven & Excellence In Exercise are teaming up to provide a 6 Month Series of Clinics on a variety of topics important to runners.   Clinics will be held at the Brookhaven location of Big Peach Running Co. on Saturdays at 8:00 a.m. – dates & details below.
TO REGISTER, CLICK HERE.
Need extra incentive to get your booty out of bed on a Saturday morning?  Participate in 4 out of the 6 clinics, and receive a free personal training session from Excellence In Exercise & a $25 gift card from Big Peach Running Co.
MARCH 30th 8:00 a.m.
Preventing The Big 3: Runner's Knee, Plantar Fasciitis & Shin Splints
Learn techniques that will help prevent, alleviate & treat the three most common running ailments: Runner's Knee, Plantar Fasciitis & Shin Splints.
APRIL 13th 8:00 a.m.
Nutrition for Runners
How much do I need to eat during my training?  Do I really need that GU packet?  Should I hydrate with Gatorade or Water?  Nutrition can be overwhelming to even the non-athlete.  But add a training component, and it becomes even more difficult.  Registered Dietitian Tanya Brackman will facilitate this clinic focusing on Nutrition for Runners.
MAY 18th 8:00 a.m.
Functional Movement Screening
The Excellence In Exercise Training Team will physically assess each participant in this clinic to locate weaknesses & imbalances.   Participants in this clinic will also learn corrective exercises to help improve their running & overall fitness.
JUNE 15th 8:00 a.m.
Core for Runners
Many runners tend to focus on building a strong cardiovascular system & strong legs, while neglecting all the areas in between.  But a structure is only as good as its weakest link, and weak core muscles can lead to injuries and sub-par race efforts – not to mention a not-ready-for-prime-time stomach.  Our Core for Runners Clinic will teach participants exercises to build core strength& stability to improve overall performance & reduce injuries.
JULY 20th 8:00 a.m.
Beat the Heat:  Crosstraining for Runners
We often hear the question, "What should I do on my crosstraining days?"  Come to this clinic, and we'll provide you with crosstraining workouts to keep you in race-shape during the dog-days of summer.
AUGUST 17th 8:00 a.m.
Recovery & Self Myofascial Release (SMR) Techniques for Runners
For any runner, recovery and self-maintenance are key.  In this clinic, participants will learn a variety of recovery techniques including one of the easiest & most effective ways to prevent & treat minor injuries – self  myofascial release (SMR).  Techniques taught in this clinic will focus on the prevention & management of chronic problems.