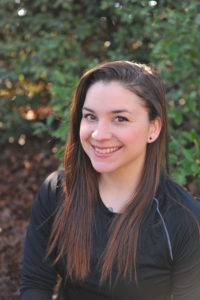 Trainer
Reyna Rochin is a graduate of San Francisco State with a B.A. in Fine Arts.  She grew up in California where she played volleyball at Pierce College and then at San Francisco State for her collegiate career. Upon graduation, Reyna didn't want to leave the fitness world so she became an National Academy of Sports Medicine (NASM) Certified Personal Trainer. As her passion for training & fitness grew, Reyna went on to obtain NASM's Fitness Nutrition Specialist and Senior Fitness certifications.
Reyna is also a competitive power lifter – and a quite successful one!  Her own workouts are rooted in powerlifting, bodybuilding, and sports performance. Because of her love of sports and strength training, Reyna utilizes aspects of speed and agility, plyometrics, strength and cardio to train many different populations.
Reyna's Philosophy: Fall in love with the process and the dedication of a healthy lifestyle and reap the benefits of a fit, confident, and empowered you.