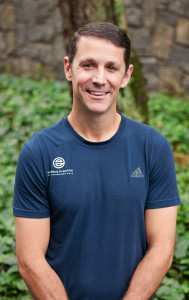 Owner, Titleist Performance Institute Certified Personal Trainer

Kristian Jones has been in the fitness industry for over 20 years, and holds an undergraduate degree in Sports Fitness Management and a Master's Degree in Exercise Physiology, both from the University of Alabama.  Kristian is a certified personal trainer, is certified in CPR,  holds certifications from 3 of the top governing fitness institutions in the world:  the National Academy of Sports Medicine (NASM), American Council on Exercise (ACE), and American Council of Sports Medicine (ACSM) and is Titleist Performance Institute (TPI) Certified.
Kristian's professional background includes positions in athletic and fitness facility management at the University of North Carolina at Chapel Hill, Turner Broadcasting Company, and Midtown Athletic Club (formerly The Sporting Club at Windy Hill).
While at UNC Chapel Hill, Kristian managed facilities for the Athletic department – directing a staff of over 30 trainers and support personnel.  After relocating to the Atlanta area, Kristian served as a manager of Turner's private corporate fitness facility at the CNN center.  There Kristian managed a staff that served the health and wellness needs of all Turner employees on the CNN Center campus.
In 2001, Kristian accepted a position at The Sporting Club at Windy Hill – an 110,000 sq. ft. facility serving the Metro-Atlanta area.  During his tenure at the Sporting Club at Windy Hill, Kristian took the Fitness department from a budget deficit to a profitable division of the club.  Kristian managed the personal training and group fitness programs, while also managing the operations of the fitness portion of the facility itself.
In 2005, Kristian partnered with Dorie Downs to open a private, personal and small group training facility – Excellence In Exercise.
Kristian's extensive research background as well as practical expertise in the field of fitness, athletic training, and facility management, Kristian has proven that he has the skills necessary to make any size fitness facility thrive, while providing quality programming on both a small and large scale.
Kristian's philosophy:  You won't see the results that you are looking for if your workouts aren't enjoyable.

Testimonials:
My fitness level has dramatically changed because of Kristian Jones. Not only do I feel fitter than I ever have but I have more confidence when I work out because of him. As a college athlete, I am challenged with every single work out I do at the University of Alabama; and when I go home during breaks for the summer, Kristian's workouts compete or exceed the level of the workouts I do at school. Not only does he push my fitness, but he pushes me as a person. He is so passionate when he works my sister and I out, and is genuinely concerned with our wellbeing. He truly is amazing!  – KK (client for 2 years)
I have been training with the Excellence in Exercise team for a little over 5 years.  Kristian pushes me as hard as I can go every time we workout but never beyond my limits.  I have worked with a number of other trainers in my life, and Kristian is by far the most knowledgeable about how to train the human body.  On the rare instances he is unavailable for a training session, JC and or Dorie are a seamless substitute.  I could not recommend the team more.  – Lee (client for 5 years)
Kristian might as well be a miracle worker. Kristian has given me nothing short of a miracle in the form of results in the gym.  Kristian's exceptional knowledge level combined with his ubiquitously adored personality, provides the most productive, yet enjoyable hour of my day.  Prior to working with Kristian, I allowed an old shoulder injury to prevent me from working out. I was unable to do a single pull up on my own. A short time later under Kristian's guidance my shoulders are stronger than ever and I'm doing more pulls ups & other upper body exercises than ever before.  – Rob (client for 9 months)
Kristian's informed approach, combined with his practical experience in sports provides an optimal combination of instruction, leadership and discipline for obtaining results for his clients.  – Rob (client for 9 months)
Kristian's academic and practical background is evident in our workouts, as my specific needs are addressed in each workout. My results speak volumes of Kristian's training ability.  The transformation that has occurred for me over the last several months, as a result of working with Kristian Jones has given me a new outlook on my physical capabilities Kristian has a unique ability to cater each workout to my needs, adjusting each workout to produce optimal results for me. – Rob (client for 9 months)